Autographs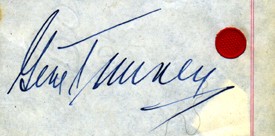 Postcards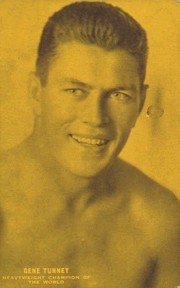 supplied by the Lydon cousins

Tradingcards

supplied by the Lydon cousins

Gumcards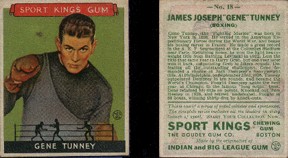 supplied by the Lydon cousins

Signed Photos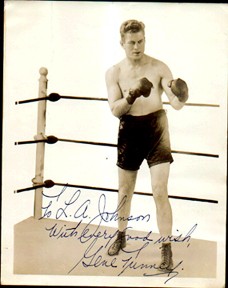 supplied by the Lydon cousins

Portrait Cards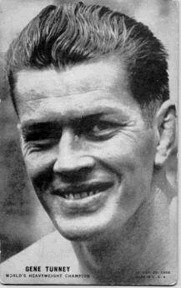 supplied by the Lydon cousins

Record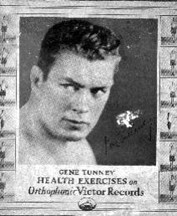 This is a 2 album record set. It has a cardboard 3 page foldout showing Gene going thru the exercises.Each exercise is multipictured(3,4,5)with a total of 10 exercises.The front cover is autographed.

Birth Certificate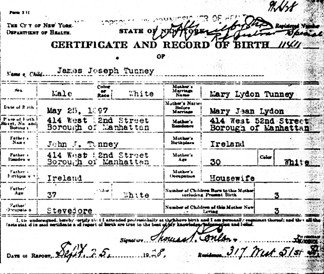 supplied by Lawrence McPherson


Don Scott owns, publishes, and edits BCN-Boxing Collectors' News. He also writes a regular column for Ring Magazine entitled, "Boxing Collector's Notebook." He is a lifetime associate member of the International Boxing Hall of Fame. Click on the BCN logo to enter his site

The Collector's Corner is the biggest homepage on the internet devoted to the buying, selling, and trading of boxing cards. I have bought Gene Tunney postcards there. They sell trading cards of his also.
Antiquities of the Prize Ring -Harry Shaffer-3958 Brown Park Drive.- Suite B. -Hilliard, Ohio 43026 -1.614.527.1745 email : boxing@antekprizering.com
His website has alot of great Tunney memorabilia for sale. Check it out.

This is an on-line auction center. Press on the logo to directly enter their sports memorabilia area. You can find pretty much anything you want there and it's always changing. It's fun to just look around without buying anything also. Just search for Tunney.

homepage - fight record - articles - video - info - photos - memorabilia